Blue Scope colours in the Colorbond roofing range
Specialising in strong prefabricated panels with no flat packs!
Customising your shed for those tight, confined spaces
ABOUT
Just Garden Sheds is a family owned business in Malaga, delivering personal service from business owner Daniel Falcone.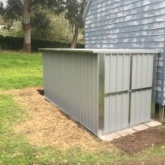 We've been delivering high quality sheds in 164 sizes for over 14 years.
Just Garden Sheds uses Australian Made 0.42 Blue Scope Steel. We use strong prefabricated panels, not flat packs imported from China. Our aim is to a deliver a personal touch that our customers will appreciate. Our customers are able to talk to the person responsible for the construction and assembly of their shed, giving you piece of mind. Our garden sheds can be custom built to fit those tight, confined areas, optimising space in your garden. Customers have the option to add a second door, and with over 20 colours to choose from the colorbond roofing range, can easily match an existing fence colour.
Just Garden Sheds does not fabricate sheds with windows, sliding doors or roller doors. Customers are able to assemble their shed by simply riveting panels together, or for a nominal fee we will deliver and install your shed. Customers are welcome to view our display sheds on show at our Malaga premises.
TESTIMONIALS
Our valued Perth customers want you to know.......
Daniel has been a great help in assisting me by fabricating a shed to suit my allocated space. There were no problems and he even came out to have a look at our job prior to installing. Daniel gets 5 stars and I would recommend him to all my friends.
Daniel was very helpful in building my shed for unique shaped area. Daniel was prompt and friendly when putting up my shed with his helper Sam. My shed looks great and is exactly what I was looking for. I would definitely recommend!
Great quality, great price and excellent customer service. Daniel was very friendly, helpful and made the whole process a breeze. I Would definitely recommend Daniel to anyone who wants a great shed with excellent service!
Excellent quality shed, very fast build time and extremely friendly service. I highly recommend Daniel if you are afte a garden shed. Look no further go straight to Just Garden Sheds.
Good quality sheds at a reasonable price. I am very pleased and would not hesitate to refer others looking for a good experience and excellent product. Daniel was very helpful and pleasant to deal with.
Excellent customer service. Great price. Put my shed up fast and it looks great. Daniel made the whole process very easy. Thank you! Definitely would recommend to friends and family.
Customers seem to appreciate the fact that the person they deal with is the person responsible for all aspects of their shed.
#justgardensheds
FREQUENTLY ASKED QUESTIONS
Please find answers to frequently asked questions regarding our garden sheds.
Do you source your material from China, or overseas?
All of our material is Australian made by Blue Scope steel using strong, 0.42 prefabricated panels. We also offer a variety of colours from the colorbond roofing range.
How is the shed size determined, and can it be adjusted to suit a specific area?
All shed sizes are the footprint perimeter, not the roof perimeter. Shed sizes can be customised to suit your space.
Can I add a second door and position it anywhere on the shed?
Yes, we are able to add a second door. We can customise each door to suit the shed and space available. Doors can be on different panels allowing access from 2 sides.
Do you install yourself, or do you have people working for you?
We operate a family owned business, constructing and installing all sheds myself with the help of an apprentice.
Are the sheds flat packed? Are they easy to put together?
Our sheds are not flat packed, they come in prefabricated panels making it easy for you to install. We also offer telephone support if you're experiencing difficulty putting the shed together.